Hotel Info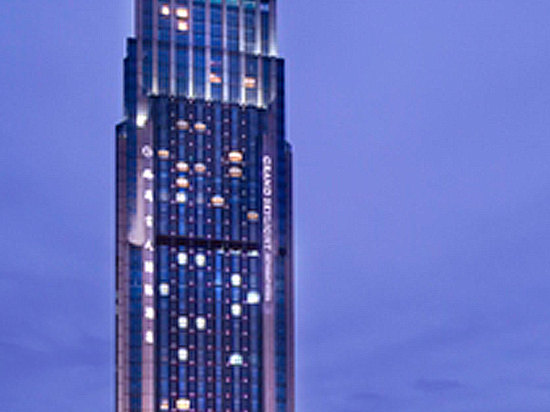 Grand Skylight International Hotel Nanchang Ganjiang North Road
stands on the Bayi Bridgehead, one of the most famous landmarks in Nanchang. It faces the Ganjiang River in the east, connects Nanchang Municipal Government and Qiushui Square in the south, and overlooks Tengwang Pavilion across the river.
Grand Skylight International Hotel Nanchang Ganjiang North Road
is a hotel invested and managed by Shenzhen Grand Skylight Hotel Management Co., Ltd. It has spacious and comfortable rooms and suites with elegant decoration. The guest rooms are stylishly and elegantly furnished with spacious spaces and exquisite furnishings. Broadband Internet access, digital TV, electronic safes, and more are readily available; 65% of the rooms have a great view of the Ganjiang River. Located on the 39th floor, the executive lounge has an elegant environment and floor-to-ceiling design. It overlooks the Ganjiang River and the entire Bayi Bridge.
The first floor of the hotel can provide a variety of exquisite meals, which can accommodate up to 130 people dining at the same time. The Hui Bar and boutique house on the first floor are a good place to relax. Tai Chi Famous Chef Chinese Restaurant on the 2nd floor can serve 300 people at the same time, providing you with authentic Cantonese cuisine. The meticulous cooking and production of famous Tai Chi chefs will allow you to appreciate the infinite charm of the taste, fragrance and taste of Chinese cuisine for thousands of years, and you will also be able to appreciate the natural and harmonious way of health preservation of Tai Chi. The Grand Ballroom on the 4th floor is a pillarless banquet hall with an area of 550 square meters and a height of nine meters. It can accommodate 500 people to eat at the same time. The other four meeting rooms on the same floor range from 65 to 130 square meters, and can hold various small and medium meetings. Luxurious facilities and meticulous service are your best choices for banquet and conference activities.
The hotel's 5th to 6th floors are facilities such as recreation center, spa, chess and card room, etc. It is a good place for your leisure time.